STATE OF PROFESSIONAL EXHAUSTION – « BURN-OUT »
The Geneva Stress Clinic treats states of exhaustion or "burnout" linked to stress and caused by a difficult professional environment as well as significant overwork.
A medical team will accompany you to help you find your core values and enable you to find personal fulfillment outside of your professional sphere.
Who is affected by professional exhaustion?
As a societal phenomenon, professional exhaustion, or burnout, can affect any individuals likely to experience a situation of high workload.
This condition is the result of an oppressive work culture, frenetic pace of life, productivity at all costs, and competition.
The difficult economic environment often leads to heavy workload demands on people.
Diagnosing exhaustion
A comprehensive assessment needs to be carried out in order to identify the malaise of the person. More generally, burnout is a cognitive disorder – a limitation of the working of the minds – which usually results in different conditions:
Decreased ability to think,
Decreased ability to reflect,
Decreased memory,
Decreased ability to concentrate,
Irritability
Loss of interest
Anxiety
Decrease in sleep quality
Quick consultationS are important, because the bridge to depression risks being crossed when self-esteem and self-confidence become affected.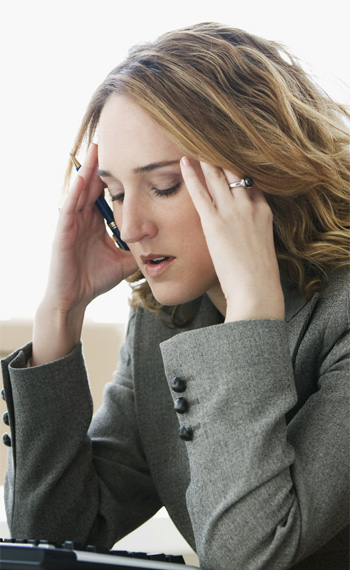 Support for burnout by the Stress Clinic
To guide the therapeutic modalities and offer you the best treatment for your issues, our healthcare professionals implement a system analysis in order to identify all of your symptoms and understand your social context.
Objective and treatment procedure for burnout
The goal is to help you relax, find the rest needed, re-learn to better live and flourish outside of your work.
Our approach is to give you the keys to "re-humanize" through an effective long-term psychotherapy.
Through the practice of cognitive behavioral therapy, the Stress Clinic breaks disorder patterns and helps you to:
Improve your confidence and self-esteem
Drive out negative thoughts and disruptive behaviors
Develop thoughts and reactions in line with reality
From burnout to depression
Although burnout is not depression, it can easily become it if it is not treated. To avoid entering a severe depression, make an appointment with our professionals for a comprehensive review via our contact form.