CIRCUMSTANCIAL? RECURRENT OR CHRONIC
Depression can occur in different ways: circumstantial, recurrent, or chronic.
Our prejudices and those of others stigmatize depression, which often prevents sufferers from receiving the health they need. The Stress Clinic provides medical answers to depression, in the same way as for a wound or an accident.
DEPRESSION
We can diagnose depression if the following signs or effects are present for several weeks:
Loss of interest and lack of pleasure in activities
Loss of libido
Withdrawal from social situations
Permanent feelings of sadness, anxiety, uselessness, despair, guilt
Changes in appetite or unexplained weight changes
Lack of energy
Sleep disorders (insomnia or excessive sleep)
Loss/lack of concentration
Memory loss
Complaints of poor physical health, with no identifiable cause
Frequent headaches and digestive troubles
Suicidal thoughts
Major depressive disorder, known in common parlance as "depression" is not just a passing feeling of "having the blues," or "being down." Someone who suffers from depression is struggling with feelings of despair for a prolonged period.
Major depression affects almost all aspects of life, emotions, physical health, personal relations and, of course, work. For people suffering from depression, there seems to be no "light at the end of the tunnel," there is only a long, dark future.
In Switzerland, approximately 15% of people will experience major depression during their life.
If you or someone you know show symptoms of depression or bipolar disorder, please talk about it with your family doctor.
Depression is a treatable disease, and our clinic will accompany you to treat it effectively.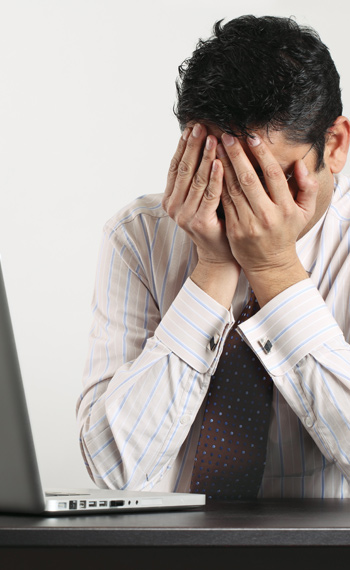 Treatment for depression in the Stress Clinic
Treatment is different according to the type of depression. After a full diagnosis, the Stress Clinic will propose an adequate treatment.
Along with anxiety, depression is the main cause of psychiatric treatment.
The first step of the healing process is to admit that it is a sickness, and not a sign of your own weakness. If you do so, you will know that you are not alone with this pain, and that you can receive help to overcome it.
Personalized approach
Everyone is unique, which is why the approaches to recovery are diverse. The most common and effective treatment is a combination o cognitive behavioral therapy consultations focused on emotions, with the potential addition of antidepressant medication.
The causes of depression
A combination of factors can make someone more susceptible to depression:
A physical illness
A psychosomatic illness
Medication
Stress
Biochemical imbalances in neurotransmitters in the brain
Hormones or the immune system
Tendency to see life negatively
Family history also appears to contribute to the risk of clinical depression
Several external factors can also increase the risk of depression, such as the illness or death of a spouse, friend, or family member, difficulties at work or in a personal relationship, a low self-esteem, financial difficulties, or addiction problems.
Types of depression
There are many forms of depression, and an initial assessment will allow for the identification of the type of depression. Identifying the type is important, since treatment can vary according to the nature of the depression:
Dysthymia
Psychotic depression
Disguised or "atypical" depression
Depression in the elderly
Bipolar disorder depression
Seasonal depression
Contact the Stress for a first complete diagnosis.